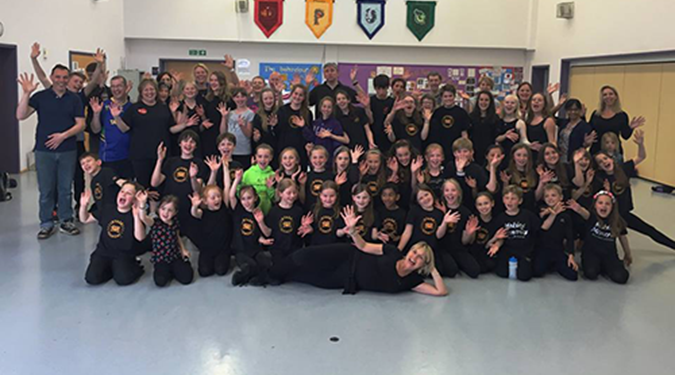 Alison Malone Principal at Stagecoach Leatherhead supports 'The Performing Arts Children's Charity' with a 'Parents Do Stagecoach' event in May 2016 and a Showcase in September
For three whole hours, parents worked up a sweat during the exciting dance, drama and singing classes.
Read what one of the attending parents had to say below:
"I had so, so much fun. The energy, the atmosphere and just the naturalness of it all was amazing! I also want to say to each one of you that it shines out of you that you just are born to do what you do. Each of you teaches with such ease and clarity. Not only that, you each have such individual style and it's clear that the kids just adore you all. Every hour was crisp, exciting, so well managed and yet you make it look so easy, the kids are eating out of your hands (as was I!). Just to be able to be a part of something so wonderful for a few hours reminded me a little bit of the things I love too! I have become rather phobic of exercise, fear of the pain factor to be honest, but I forgot the great feeling you also get from moving! You are all an inspiration and our kids are just so very fortunate to have you – I hope they realise it. If that didn't make our weekends, nothing would!"
Because it's a such fun day for all those involved and raises money for an excellent cause everyone benefits from 'Parents Do Stagecoach'. Parents also have an opportunity to get to know the staff who teach their children and by taking part in the event gain a greater understanding of what 'The Performing Arts Children's Charity' is all about! So if your son or daughter goes to Stagecoach, or you are a Stagecoach student yourself, why not ask your Principal to hold a 'Parents Do Stagecoach day?'
We would like to thank all who took part and their support the Charity in raising £995.00. We are very grateful that Stagecoach Leatherhead support 'The Performing Arts Children's Charity'.